Meet your CandleSmith: Susan Bradley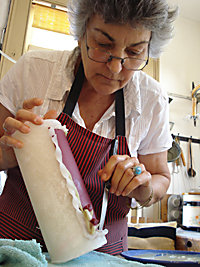 For more than 30 years, candle artisan Susan Bradley has been making candles and sculpting in wax. From San Francisco to St. Augustine, Florida, and now in her studio on historic Fleming Island, Florida, Susan has honed her craftsmanship with style and beauty.
Every candle is personally handcrafted by Susan. Working with bayberry, beeswax, paraffin and soy, she finds the finest wax blends for each candle.
CandleSmith.com
Our website is one of the largest online suppliers of authentically crafted bayberry candles. It is our pleasure to carry on the age-old tradition of crafting bayberry candles to ensure the health and prosperity of all who burn them.