Let us help you create a unique memento to cherish for years to come!
we customize wedding candles with your wedding invitation or names, photo, and date
we incorporate your wedding colors and decorate to your taste – elegant, ornate, or simple
available in white or off-white with your choice of decorative wax roses and wax ribbon
send us your wedding invitation and a swatch of your colors so we can best match the embellishments with your wedding colors
We typically do not scent these candles, but we will gladly scent if you like
These are a delicate wax creation, therefore we recommend picking these up in person to avoid breakage.  We will gladly ship and pack appropriately, however, we cannot be responsible for the handling after it leaves our shop.
order early!  These beauties take approximately 1 week to make
Unity Candles
Taper candles can also be decorated for the ritual of lighting the wedding pillar (Unity Candles), signifying the two becoming one.
The taper base will be white or off white.  We will add a rose to each candle in your choice of color, and we can do a lace look similar to our Victorian Tapers if you like.
* * *
Style A – Traditional With Invitation or Names & Date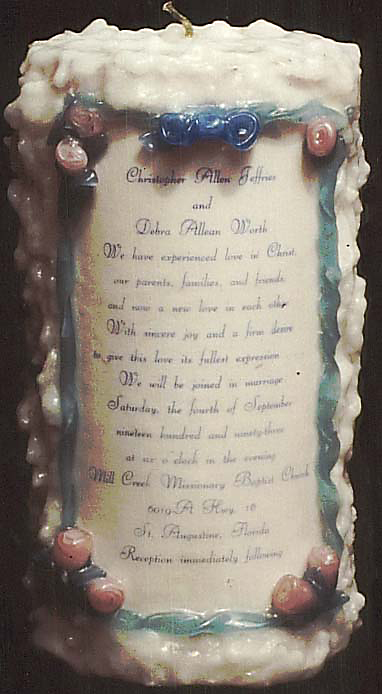 $39.95 each
Style B – Contemporary with Invitation or Names & Date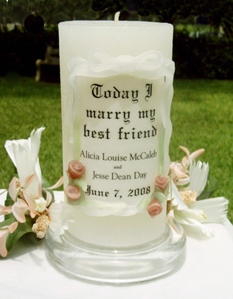 $34.95 each
Unity Candle
These come as a pair.  Choose the base candle color of white or off white, choose lace or no lace, and choose your rose color.
If there are any other specifics you need us to know, please contact us and we will be happy to help customize your Unity Candle set.