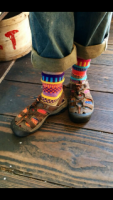 "Life is too short for matching socks"  …. That's the motto of SolMate Socks!
We carry a variety of colors and sizes, from 6 months up to adult Large.  Adult sizes come in pairs, while children's sizes come in threes (in case the sock monster eats one 😉 ).  Baby sizes come in a set of 5!
These are sure to please and will keep you warm too!  They look adorable with a pair of shoes that shows them off, or just alone to walk around the house in comfort.  They have a nice thickness that lets them last a very long time.  Try a pair today!