Hand-Dipped Real Bayberry Tapers, Pillars and Votives
"A Bayberry candle burned to the socket
brings health to the home
and wealth to the pocket."
Proud to Carry On the Tradition
CandleSmith's Bayberry Pillars are made of a bayberry/beeswax blend or a bayberry/paraffin blend and have lead-free wicks.
Bayberry wax is a pale green, brittle wax boiled from plants that the early settlers found in New England. Bayberry was a welcomed treat from the animal tallow candles of everyday and bayberry candles became a holiday tradition, often given as gifts.
Add beeswax and paraffin, and a bit of soy, and you have a candle that is good for you and good for the planet.
Each candle is individually poured or hand dipped.  While we take care to make sure your order of multiple candles are matched, there may be variations that naturally occur.
Traditional Bayberry Taper Candles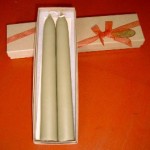 true to tradition, we hand dip real bayberry wax candles
great for Holiday gifts!
see our Corporate Gifts page for additional Bayberry Gift ideas
approximately 8-inch tapers
$15.95 per pair
* Shipping prices change with each group, please be sure to choose the "Add to Cart" button that corresponds with the number of pair you are ordering to ensure correct shipping charge.
QUANTITY
SHIPPING
1-5 Pairs
$7.00

---

6-10 Pairs
$12.00

---

11 to 20 Pairs
$15.00

---

21 or more Pairs
$20.00
Bayberry Pillar Candles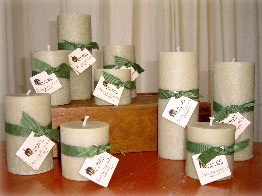 real hand-poured bayberry pillars
our personal blend of bayberry, beeswax, paraffin, and soy waxes
available in:
2″ x 3″ = $8.95 each
2″ x 6″ = $10.95 each
3″ x 3″ = $10.95 each
3″ x 6″ = $17.95 each
3″ x 8″ = $21.95 each
Order by PayPal now:
Bayberry Votive Candles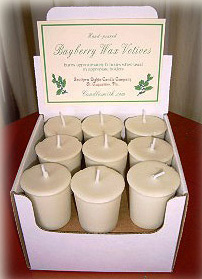 real bayberry votives
15-hour burn time
minimum order: box of 6
Available in:
Box of 6 – $18.00
Box of 18 – $45.00
Order by PayPal now:
* * *